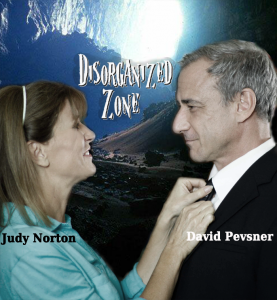 DISORGANIZED ZONE – a new webseries from DZ Films in association with Good Takes Productions, began filming Sept 21.  Exec Produced by Cyndi Seidler, JUDY NORTON came on board as a Producer, Writer and Director.
The series is a parody of the Twilight Zone, that takes individuals through another dimension; an excursion into another precinct where boundaries are limited only by that of the mind's eye. And, when living the illusion that everything is fine, evidence may show otherwise, as people discover when they step over into their Disorganized Zone.
There are times when a person may not have things in control as much as they believed they have. Their unplanned journey into the Disorganized Zone maps out a little more clarity than what they started off with.
Starring DAVID PEVSNER – (TV series Old Dogs & New Tricks, Modern Family, We're Alive) as the HOST, and  JUDY NORTON (The Waltons, Bluff, Finding Harmony) as the ORGANIZER.
For series information and upcoming air dates go to:  http://disorganizedzone.com